Food documentaries come in almost as many flavors as ice cream does, so there is sure to be something for every taste. Check out five of our favorite food-inspired documentaries. Grab your favorite go-to snack, something to sip on, and settle in for a night of binge watching. These great films will appeal to the foodie in you.
Cheese Nun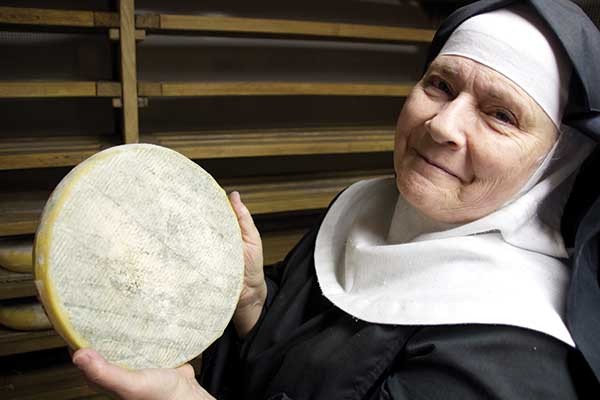 If you have a love of cheese, you'll thoroughly enjoy watching microbiologist Mother Noella Marcellino visit France's greatest cheese-makers. She has a warm, vibrant personality that makes her fun to watch, and her work related to cheese fungi is fascinating even if cheese isn't your thing. You'll learn how the molds that flavor cheeses are unique and diverse, creating the rich range of cheesy flavors that we enjoy. If you want to learn more about Mother Noella's prize-winning work, check out this New York Times article.
This documentary follows three different restaurants through the day to day issues they face. You'll meet a traditional family-owned restaurant, a Mexican place, and an upscale eatery. Meet the owners and employees, see their various struggles and situations, and get a real-world feel for what it takes to run a successful establishment. Each restaurant has a very different situation, but the commitment and struggles transcend the food. The drama, passion, and adversity make this one a compelling watch that will pull you into the stories of these restaurants.
[embedyt] http://www.youtube.com/watch?v=PPHaLkd4J28[/embedyt]
SOMM
This is a fascinating look at the stress, training, and passion that goes into becoming a Master Sommelier. The film follows four people preparing for the most difficult test of their lives. Intense studying and ceaseless practice are required to be ready for the test. Once passed, Master Sommeliers will have a prestigious career, but the failure rate is very high. Will our candidates pass? The suspense will keep you watching. Pair this one with a glass of your favorite wine. Learn more about the test, which requires a highly refined palate, in this article from Forbes.
Who doesn't love Chinese food? This documentary answers all your questions about the origins of this popular, spicy, tasty chicken dish. You'll learn the history of General Tso himself as well as how the dish came to be. It isn't all fluff either. The film ties in immigration and the way Chinese food and culture have adapted in the United States. Still, it is hard to watch this one without placing a take-out order and getting some General Tso's chicken.
Candyman
No, we're not talking about the iconic 90's horror movie. This documentary follows the life of David Klein, the father of Jelly Belly. You've loved these tasty treats with their huge variety of interesting flavors for years, but probably don't know much about the man behind the jelly bean. Learn more about his invention, the story behind the company, and how it became such a huge success. You'll enjoy the storytelling as much as the candy. Indulge your sweet tooth and check this one out.
[embedyt] http://www.youtube.com/watch?v=QmYqwaMwkkQ[/embedyt]
Maybe watching all these foodie films, you'll be inspired to be the next great American chef. Or perhaps, you can just settle for a BlueApron meal-in-a-box kit that requires way less talent, but makes you feel good about your cooking abilities. Either way, it's safe to say that dinner has been served by these foodie films.